September 10, 2020
ISDA Create is an online platform that allows buy- and sell-side firms to electronically negotiate their documentation, making the negotiation process far more efficient and less time consuming, as well as allowing for the capture of legal and commercial data within the documents without any additional effort.
This page contains all relevant information relating to ISDA Create, including demos, fact sheets, webinars, product presentations and access to the ISDA Create platform. If you have any questions or would like further information, please contact the ISDA Create team.
To schedule an online demo of the ISDA Create platform, please click here.
This page is separated into seven sections:
1. Background
ISDA Create allows organizations to generate, negotiate and execute documentation completely online, as well as capture, process and store data from these documents. Originally launched to help firms negotiate initial margin (IM) documentation to comply with new margin rules, the platform is being extended to other documents, including the schedule to the ISDA Master Agreement.
ISDA Create offers a rich set of user-friendly features, a full audit trail of the negotiation history, risk management tools and real-time transparency on progress with every counterparty – all through a single digital platform.
ISDA Create is a collaboration between ISDA and Linklaters.
2. Features
Detailed below is a workflow diagram that highlights how the ISDA Create solution functions.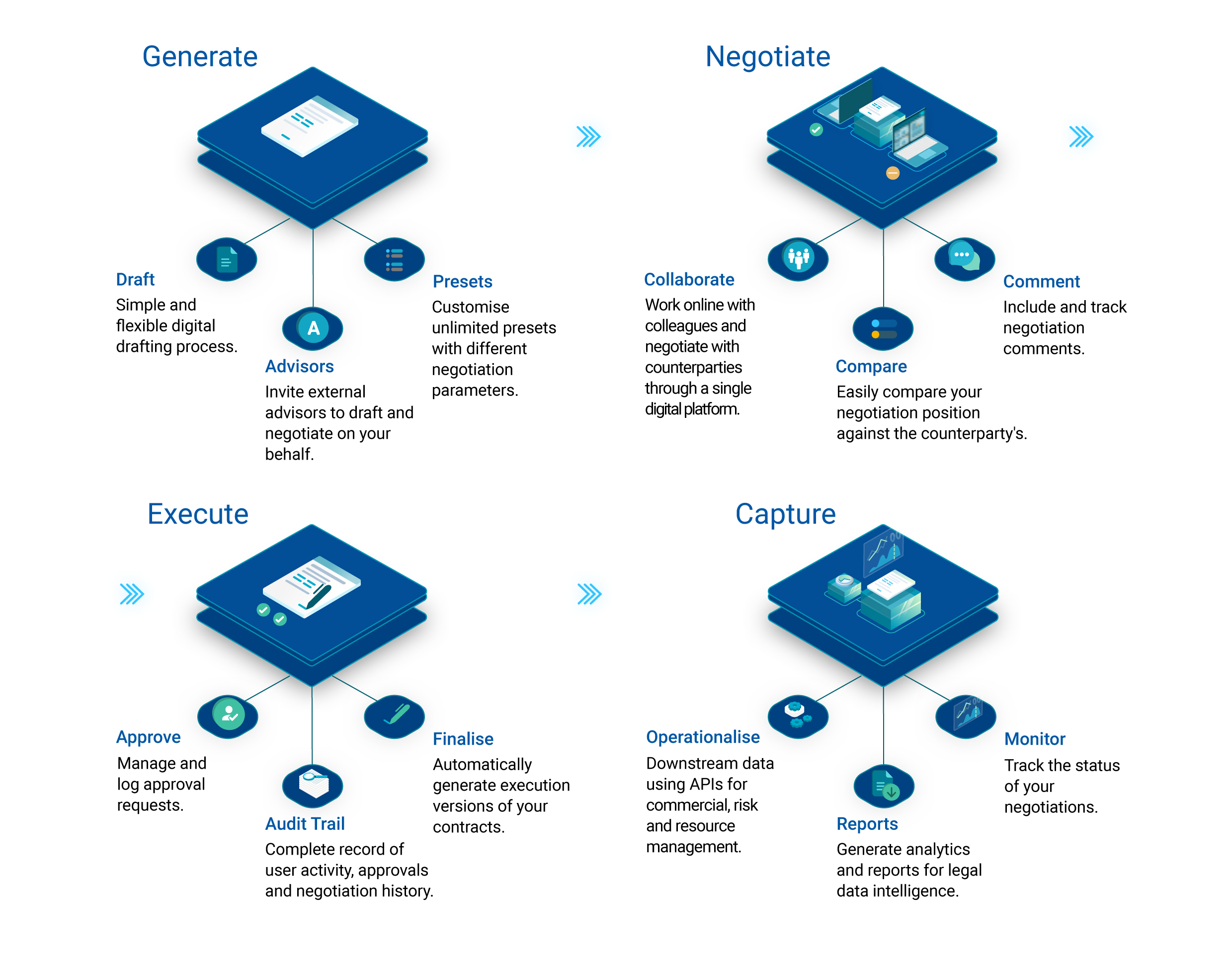 3. Benefits
Automates the creation, negotiation and execution of documentation with multiple counterparties at the same time;
Improves the efficiency of the negotiation process, making it far less time consuming;
Enhances coordination across an organization, providing value to trading and sales, onboarding, legal, credit and risk, collateral, operations and technology functions;
Provides commercial, risk management and resource management functions, data and analytics;
Allows external advisors to draft and negotiate documents on behalf of the user;
Removes the requirement for any post-execution data transfer from negotiated documentation into internal systems, reducing the potential for errors;
Allows firms to opt for standard elections set out in the system, as well as customize where necessary and without limitation;
Stores all data on the system digitally, with the ability to pull this information into internal systems if desired.
ISDA Create is being continually developed and enhanced to ensure it evolves with market changes.
4. Documentation
There are currently 23 IM-related documents on ISDA Create, covering multiple jurisdictions. This includes the IM-Credit Support Annex governed by New York Law, the IM-Credit Support Deed governed by English Law, as well as collateral documents for use with a bank custodian, Euroclear and Clearstream platforms.
On June 18, 2020, ISDA and Linklaters announced that three new document modules will be available on ISDA Create during 2020, bringing automation and efficiency to the negotiation of a wider universe of documents. These include:
Standard Amendment Agreements:

These forms, which are adapted from the March 2003 ISDA published form, allow users to complete any amendment to one or more ISDA published documents.
Benchmark Reform Amendment Agreements:

ISDA is drafting a number of documents to assist entities with their transition from interbank offered rates (IBORs) to alternative risk-free rates (RFRs). For example, the EONIA Bilateral Amendment Agreement enables parties to amend one or more of their existing confirmations, credit support documents and/or master agreements to update references to EONIA in light of the anticipated permanent cessation of EONIA on January 3, 2022.
ISDA Master Agreement Schedules:

The schedules to the 1992 ISDA Master Agreement (Multicurrency – Cross Border), the ISDA 2002 Master Agreement, and the 2002 forms of the Master Agreement under French and Irish law. The 1992 ISDA Master Agreement (Multicurrency – Cross Border) and the ISDA 2002 Master Agreement will be available in the fourth quarter of 2020, with the ISDA 2002 Master Agreement under French and Irish law following soon after.
As part of the Master Agreement functionality, ISDA Create will incorporate the ISDA Clause Library, a new drafting tool intended to introduce greater standardization in how firms negotiate and agree clauses within their ISDA documentation.
5. Fact Sheets / Presentations / Press Releases
6. Webinars / Videos
Listed below are a number of webinars and videos covering the latest functionality and document releases on ISDA Create.
Documents (0)
for ISDA Create InfoHub