ISDA Create is an online platform that allows buy- and sell-side firms to electronically negotiate their documentation, making the negotiation process far more efficient and less time consuming, as well as allowing for the capture of legal and commercial data within the documents without any additional effort.
This page contains all relevant information relating to ISDA Create, including demos, fact sheets, webinars, product presentations and access to the ISDA Create platform. If you have any questions or would like further information, please contact the ISDA Create team.
To schedule an online demo of the ISDA Create platform, please contact support@isdacreate.org, or onboarding@linklaters.com.
This page is separated into six sections:
1. Background
ISDA Create allows organizations to generate, negotiate and execute documentation completely online, as well as capture, process and store data from these documents. Originally launched to help firms negotiate initial margin (IM) documentation to comply with new margin rules, the platform has been extended to other documents, including the ISDA Master Agreement.
ISDA Create offers a rich set of user-friendly features, a full audit trail of the negotiation history, risk management tools and real-time transparency on progress with every counterparty – all through a single digital platform.
ISDA Create is a collaboration between ISDA and Linklaters and is powered by CreateIQ, which leverages the same architecture, user interface, workflows and data model. CreateIQ allows for the publishing and negotiation of non-ISDA documents. This includes, but is not limited to, publication of your proprietary forms, NDAs, Loan Agreements, Employment Contracts, additional Master Agreements and more.
2. Features
Detailed below is a workflow diagram that highlights how the ISDA Create solution functions.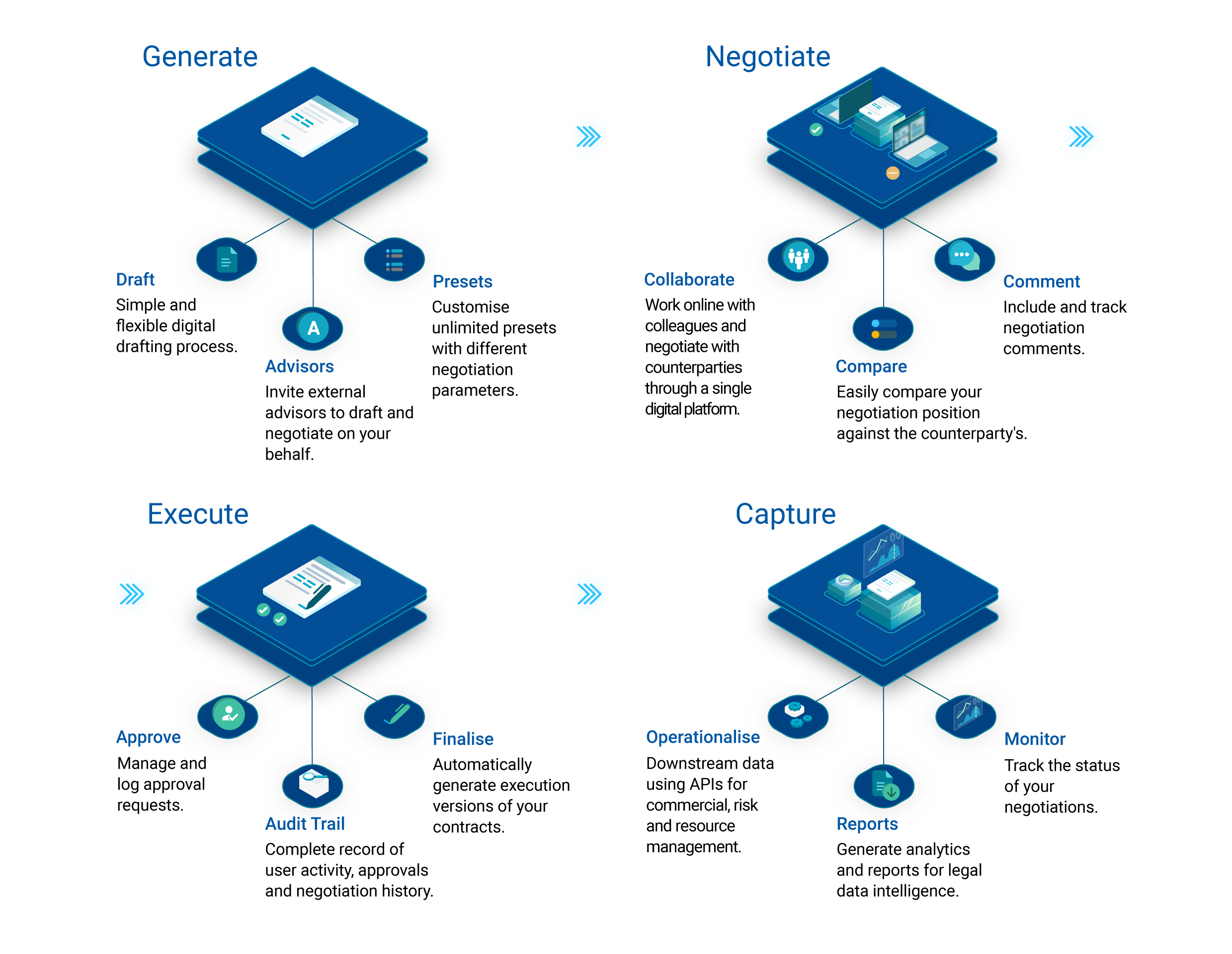 3. Benefits
Automates the creation, negotiation and execution of documentation with multiple counterparties at the same time;
Improves the efficiency of the negotiation process, making it far less time consuming;
Enhances coordination across an organization, providing value to trading and sales, onboarding, legal, credit and risk, collateral, operations and technology functions;
Provides commercial, risk management and resource management functions, data and analytics;
Allows external advisors to draft and negotiate documents on behalf of the user;
Removes the requirement for any post-execution data transfer from negotiated documentation into internal systems, reducing the potential for errors;
Allows firms to opt for standard elections set out in the system, as well as customize where necessary and without limitation;
Stores all data on the system digitally, with the ability to pull this information into internal systems if desired.
ISDA Create is being continually developed and enhanced to ensure it evolves with market changes.
4. Documentation
Regulatory Initial Margin (IM):

There are currently 24 IM-related documents on ISDA Create, covering multiple jurisdictions. This includes the IM-Credit Support Annex governed by New York Law, the IM-Credit Support Deed governed by English Law, as well as collateral documents for use with a bank custodian, Euroclear and Clearstream platforms. In addition to bilateral negotiation of Reg-IM publications, ISDA Create's IM module supports negotiation of Custody Agreements and Account Control Agreements by custodians who publish their forms on the platform.
Variation Margin (VM):

In June 2022, ISDA and Linklaters announced the launch of a new VM module that embeds the ISDA Clause Library for credit support documentation within the relevant VM documents on the platform. The new module allows users to draft and agree VM documents faster and more efficiently, as well as capture the resulting structured legal data for use in downstream operations.
Benchmark Reform Amendment Agreements:

ISDA has published a number of documents to assist entities with their transition from interbank offered rates (IBORs) to alternative risk-free rates (RFRs). This suite of benchmark reform documents are available for negotiation on ISDA Create. For example, the EONIA Bilateral Amendment Agreement enables parties to amend one or more of their existing confirmations, credit support documents and/or master agreements to update references to EONIA in light of the anticipated permanent cessation of EONIA on January 3, 2022. Additionally, the Bilateral Forms for IBOR Fallbacks allow counterparties to negotiate certain modifications to the terms of the IBOR Fallbacks Supplement and the IBOR Fallbacks Protocol or, agree to include the new fallbacks in transactions entered before January 25, 2020 if one or both counterparties has not adhered to the IBOR Fallbacks Protocol.
Standard Amendment Agreements:

These forms, which are adapted from the March 2003 ISDA published form, allow users to complete any amendment to one or more ISDA published documents.
ISDA Master Agreement:

The ISDA Master Agreement is the standard contract used to govern all over-the-counter (OTC) transactions entered between parties seeking to form a derivatives trading relationship. The 1992 ISDA Master Agreement (Multicurrency – Cross Border), the ISDA 2002 Master Agreement and the ISDA Clause Library, which provides standardized drafting options for certain provisions within the ISDA Master Agreement, are available for negotiation on the platform.
Bank of New York Mellon Account Control Agreements (ACAs):

These Account Control Agreements are used during triparty custodial negotiations and are handled through a process driven by each entity's Relationship Manager. Please see the "Press Releases" section for more info.
5. Fact Sheets / Presentations / Press Releases
Press Releases
Date
Title
June 8, 2022
Variation Margin Documents Added to ISDA Create
May 11, 2022
ISDA, Linklaters and S&P Global Market Intelligence Announce Intention to Enable Data Sharing Between ISDA Create and Counterparty Manager
November 24, 2021
BNY Mellon Publishes Custody Documents for Negotiation on ISDA Create
January 21, 2021
ISDA Master Agreement and ISDA Clause Library Added to ISDA Create
June 18, 2020
ISDA Create Extends Online Negotiation to New Documents
September 4, 2019
ISDA Create to Add New Custody Function for Initial Margin
January 31, 2019
ISDA and Linklaters Launch Full Version of ISDA Create – IM
January 29, 2019
AcadiaSoft Teams with ISDA to Streamline Integration with ISDA Create
October 4, 2018
ISDA and Linklaters Launch Test Version of ISDA Create – IM
April 25, 2018
ISDA Partners with Linklaters on Online Margin Document Negotiation Tool
6. Webinars / Videos
Listed below are a number of webinars and videos covering the latest functionality and document releases on ISDA Create.
Webinars
Date
Title
June 17, 2021
Enhancing Multi-party Umbrella Negotiation: An ISDA Create Demo
May 21, 2021
The Digitization of Legal Data – Why is Everyone Talking About It?
October 23, 2020 (Updated on December 8, 2020 with ISDA Create Demo)
ISDA IBOR Fallbacks: Bilateral Templates, ISDA Create and IHS Markit Outreach360
June 30, 2020
ISDA Create Webinar
Videos
Date
Title
May 7, 2021
Easy to Create Documents
May 7, 2021
Easy to Negotiate
May 7, 2021
Manage Legal Risk and Stakeholder Transparency
May 7, 2021
Efficient Client Outreach
May 7, 2021
Accessible Legal Data
February 9, 2021
ISDA Master Agreement and ISDA Clause Library Added to ISDA Create
November 19, 2018
What is ISDA Create – IM
Documents (0)
for ISDA Create InfoHub